Covid-19 Notice: Unfortunately all make-up applications at public events have been cancelled indefinitely.
We are still available for FX and injury simulation make-up applications for Film/TV shoots and other private events.
Black & Blue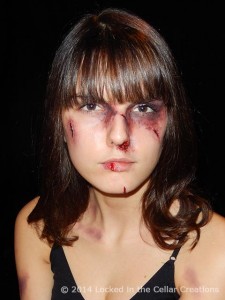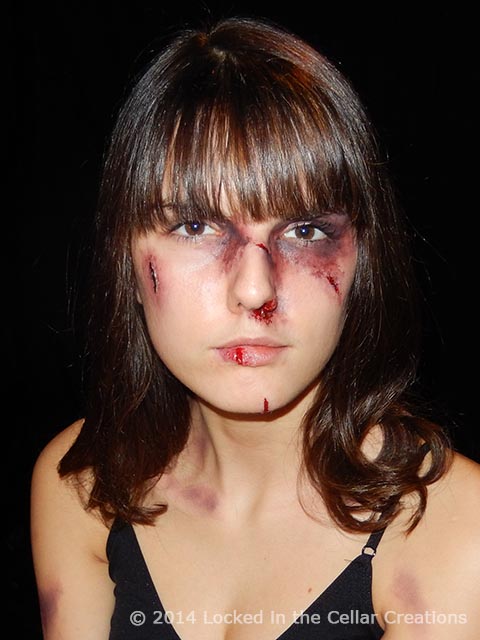 Meet Rose. Rose has been the victim of domestic abuse. But not anymore. Too celebrate overcoming the unhealthy situation she was in, she recorded a music video to go with a song she wrote about that dark period in her life. In the video she starts out looking thoroughly beaten up and during the progress of the song, she heals herself from the inside.
Our team of SFX artists provided her with realistic looking injury simulation make-up. We stayed present during the shoot, so that we could remove the injuries one by one, for every stage of the healing process.
Occasions for injury simulation
There is a wide range of situation that would require realistic injury simulation. For example:
TV/Film shoots;
First Aid Training;
Emergency Evacuation Scenario Testing;
Hidden camera pranks 🙂
Types of injuries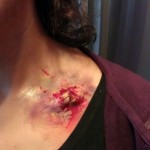 We can provide realistic injuries from small to severe, e.g. cuts and bruises, compound fractures, burns, etc. Let us know what fits in your scenario, and we'll let you know how we can pull it off!
We have extensive anatomical knowledge to make the injuries as realistic as possible, or if desired we can go completely over the top.
Your / our actors
We can provide your models with the injuries of your desire on site, or send our practiced pre-injured victims actors. Our actors are experienced cos-players and are experts in staying in character.
If you would like to have our artists do up your models at your location, all we require is an area with a work top and good lighting.
Contact us for more information & quotes.