If your production is in need of SPFX make-up, custom props, creatures or other practical effects, we can help!
We specialize in creative solutions to fit any budget, so contact us now!
For a sample of the twisted things that have come out of our workshop in the past, please check out our Portfolio below, and don't forget to check out the Testimonials of our previous clients.
---
Snow Blind (2021)
Snow Blind is by far the most challenging film we worked on so far, because applying extensive prosthetic makeup for a shoot in the middle of the snowy woods is no walk in the park!
As we can't give away any plot development yet, I'm just going to have to leave you with this teaser pic…
Neurovenge (2020)
Who says that your smart home system doesn't have a secret agenda?
For the feature film Neurovenge, we fabricated a sleek little smart home unit with dome camera, that can flash its light in different colours as it's speaking to the actors. In addition, we also did some cool stabbing and makeup FX that we unfortunately can't show you yet either…
My Dinner With Chuck (2019)
Chuck is an Alaskan King Crab, but not just any King Crab.
For this role, the director needed a crab capable of following instructions, like looking around the restaurant and communicating with his fellow actors. Rather than training an actual King Crab, the team behind "My Dinner with Chuck" reached out to us to have a King Crab replica made.
We cast Chuck's 32 parts (not counting inner mechanics!) in resin and foam latex. He is cable controlled and operated by 2 puppeteers. He can move his eyes, claws, antennae and mandibles.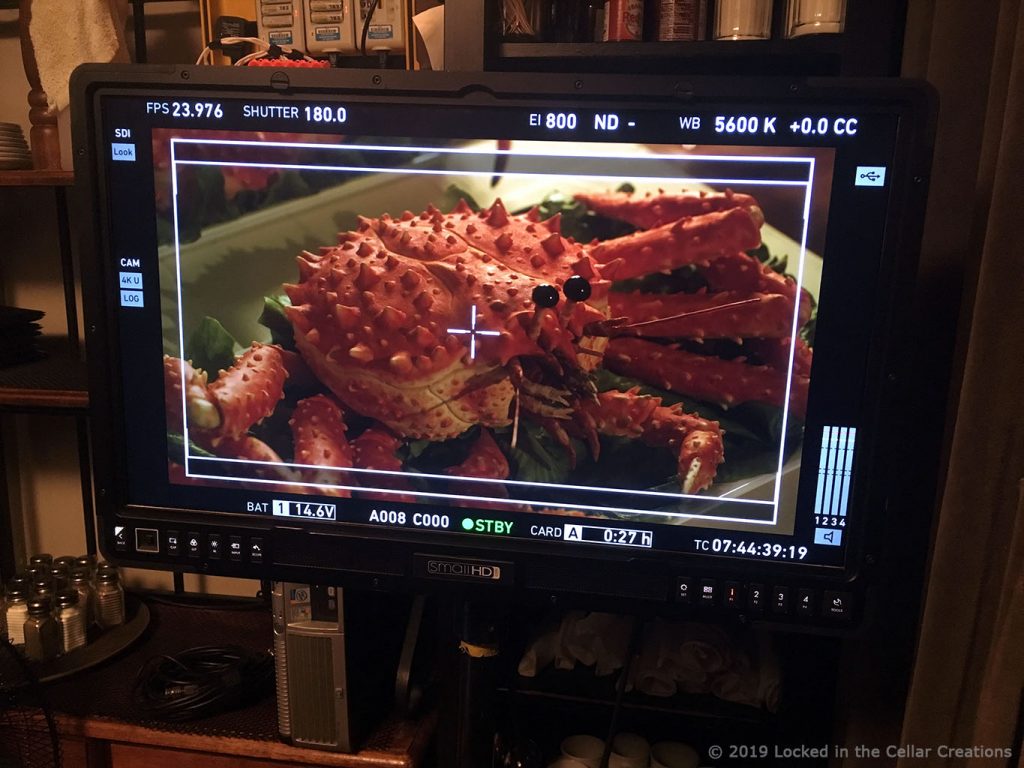 Beyond Hell (2019)
"Beyond Hell" is an indie feature film by director Alan Murray and producer Gavin Downes.
We designed the facial prosthetics for main demon Belial, and trained their team of make-up artists to apply the make-up. We also created a number of background demons, and a bar full of dead bodies.
Winner of Best Special Effects at the Scarefest Horror Film Festival 2019
Dead Serious (2018)
Dead Serious is a 'zomedy' written and directed by Dan Carriere, and shot in Hamilton, ON. For this short film we made five original zombie make-ups ("Thriller style"), including a maggot infested zombie, a dried up zombie and a before/after hockeystick head bash zombie.
The Secret Sessions (2017 – 2018)
The Secret Sessions presents movie experiences where live theatre fuses with classic movies. We have been part of the Shaun of the Dead Movie Experience (2017) and The Princess Bride Movie Experience (2018).
For these events we have created scars, an albino, a one-armed zombie, various old age make-ups and zombified large parts of the show's audience for several nights.
Hexbook (2018)
Behold! The horrifying HexBook!
Custom cover for the Guest Book of Hamilton's own Hex Film Festival.
100% handcrafted and painted, we made it look as if it was made out of scraps of demon and monster skin.
Snuff Film (2016)
Film maker Michael Laicini was in need of black & white simulated snuff film footage for a horror short, so we 'beat up' his actors for him. This shoot was extremely challenging because the various stages of injuries and the very short time frame in which the location was available. It also involved tattoo cover-up.
Cole "The Monster of Pilkington County" Bowman (2014)
For a film project titled "The Life of Daniel", we created this original make-up to turn writer/actor Joseph Moore into an early 20th century burn victim. The character looks as if he has been patched up as well as possible with the skin grafting techniques available in that time period.
Rose Hunter – "Black & Blue" (2014)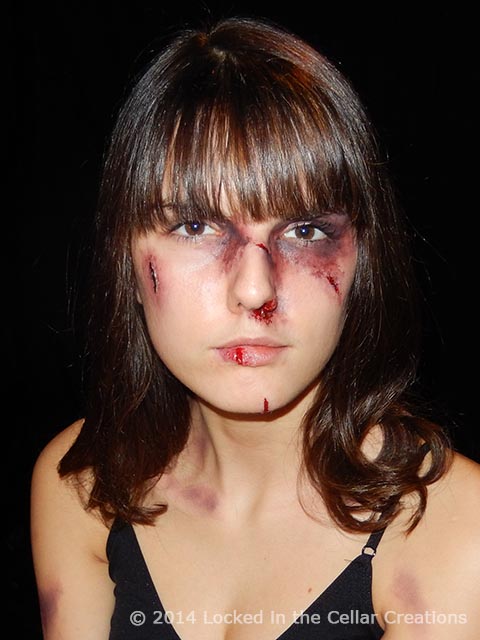 Rose Hunter is an upcoming singer-songwriter from BC. Her debut single "Black and Blue" is based on her experiences with domestic violence.
We created this abuse make-up for her music video, which was shot at Villa Sound in Collingwood, in November 2014.
In the video, her injuries disappear one by one, to show her healing herself from the inside.
A Dark Matter (2011)
A Dark Matter is a film noir about a man obsessed with artist's eyes.
We created prop eyeballs for a surgery scene and eyeballs in formaldehyde in different states of decay, as well as SFX make-ups for the main actor after he lost an eye. We created the stab wound for a scene featuring the discovery of a dead body. Because the shoot location had porous wood floors that could not be damaged, we created "wet" pools of blood that could be placed on the floor beneath the actress, and then peeled off after shooting without any damage to the floors.
Avatar: The Exhibit (2012)
Special guests at the opening of "Avatar: The Exhibit" at THEMUSEUM in Kitchener, ON.
We created custom nose and ear prosthetics and costumes to resemble Jake Sully and Grace Augustine from James Cameron's Avatar. We custom made Grace's Stanford shirt and jewellery, and made tails with an internal bone structure that allowed them to swish back and forth like real tails. Finally, we used special waterproof makeup so that it would not transfer onto museum guests, and that stayed on for 48 hours without re-application.
Various injuries
We can create any wound, big or small, on your actors, either by using our hand-made prosthetics, or by building it up on the spot.
For example: Cuts, Claw marks, Bullet wounds, Broken nose, Burns, Branding, Bite marks, Bug infestations, Compound fracture, Torn cuticle, etc.
Under the Bridge (2000)
In this movie a young man's unconscious body is left in front of a train after he got whacked in the head with a firelog. With our rubber log replica the actress could safely hit him on camera. Additionally, we created the remains of his body after the train hit him.
Various props